Social and Cultural Information
Historical Background

The origins of the Thais is a much debated topic among academics. Three decades ago it could be said with presumed certainty that the Thais originated in northwestern Szechuan in China about 4,500 years ago and later migrated south to their present homeland. However, this theory has been altered by the discovery of remarkable prehistoric artifacts in the village of Ban Chiang in the Nong Han District of Udon Thani Province in the Northeast of Thailand. These include evidence of bronze metallurgy dating back 3,500 years, as well as other indications of a culture far more sophisticated than previously believed by archaeologists. It now appears that Thais might have originated here in Thailand and later scattered to various parts of Asia, including some parts of China.

"Siam" is the name by which the country was known to the world until 1939 and again between 1945 and 1949. On May 11, 1949, an official proclamation declared that the country would henceforth be known as "Thailand." The word "Thai" means "Free," and therefore "Thailand" means "Land of the Free."

Source: Thailand into the 2000's


Geography

Situated in the heart of the Southeast Asian mainland and covering an area of 513,115 sq. km., from North 5 o30" to 21o and from East 97 o30" to 105o 30", Thailand borders the Lao People's Democratic Republic, Cambodia and the Gulf of Thailand to the east, Myanmar and the Indian Ocean to the west, and Malaysia to the south. Thailand has maximum dimensions of about 2,500 kilometers north to south and 1,250 kilometers east to west, with a coastline of approximately 1,840 kilometers on the Gulf of Thailand and 865 kilometers along the Indian Ocean.


Topography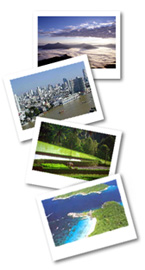 Thailand is divided into four natural regions:
| | |
| --- | --- |
| 1. | The North |
| 2. | The Central Plain, or Chao Phraya River Basin |
| 3. | The Northeast, or the Korat Plateau |
| 4. | The South, or Southern Peninsula. |
The North is a mountainous region comprising natural forests, ridges and deep, narrow, alluvial valleys. The major city in the region is Chiang Mai.

Central Thailand , the basin of the Chao Phraya River, is a lush, fertile valley. It is the richest and most extensive rice-producing area in the country and has often been called the "Rice Bowl of Asia." Bangkok, the capital of Thailand, is located in this region.

The Northeast region is arid, characterized by rolling surfaces and undulating hills. Harsh climatic conditions often result in this region being subjected to floods and droughts.

The Southern region ranges from hilly to mountainous, with thick virgin forests and rich deposits of minerals and ores. The region is the center for production of rubber and cultivation of other tropical crops.


Climate

Thailand is a warm and rather humid tropical country. The climate is monsoonal, marked by a pronounced rainy season lasting from about May to September and a relatively dry season for the remainder of the year. Temperatures are highest in March and April and lowest in December and January. The average temperature is 28.1 o C.


Population

The population of Thailand, estimated at 64.86 million in 2004, includes ethnic Chinese, Malays, Cambodians, Vietnamese, Indians, and others. Immigration is controlled by a quota system.


Religion

Buddhism, the national religion, is the professed faith of 95 percent of the population. Islam (3.8%), Christianity (0.5%), Hinduism (0.1%), others (0.6%) are embraced by the rest of the population. There is absolute religious freedom. The King of Thailand, under the constitution and in practice, is patron of all major religions.


Language

The official national language is Thai. It is tonal, uninflected, and predominantly uses monosyllabic words. Most polysyllabic words in the vocabulary have been borrowed, mainly from Khmer, Pali and Sanskrit. Dialects are spoken in rural areas. Other languages are Chinese and Malay. English, a compulsory subject in public schools, is widely spoken and understood, particularly in Bangkok and other major cities.


The Monarchy

The words of the Thai Royal Anthem, performed at most official ceremonies and before the start of every movie, may strike a Western ear as somewhat archaic.

After all, the system of absolute monarchy ended in 1932, following a revolution staged by a small group of disaffected civil servants and military men. Since then, Thai kings have ruled under a constitution; their powers theoretically no greater than those of European monarchs. Yet, since he was officially crowned in 1946, His Majesty King Bhumibol Adulyadej has assumed the role of constitutional monarch and has worked tirelessly on behalf of his people, gaining a measure of personal devotion that is probably more intense than that felt for any of his all-powerful ancestors. It has been said that Their Majesties King Bhumibol and Queen Sirikit are the hardest working royal couple in the world with a work load once estimated to be equal to at least one function every day of the year. Of the several institutions that form the foundation of modern Thai life, the one His Majesty represents is not only the most visible but also the most revered.

His Majesty has devoted himself to public service and made enduring contributions to Thailand's development, initiating vital "royally-suggested" projects such as crop rotation, fish breeding, irrigation, natural watershed programs, dairy farming, reforestation, road building, and the establishment of self-help villages.

His Majesty has traveled countrywide by helicopter, jeep, train, boat and on foot, often to the remotest corners of his Kingdom, in pursuit of his projects. He is held in high esteem nationwide for his profound interest in his people's welfare.

Her Majesty Queen Sirikit frequently accompanies His Majesty and shares a close interest in the welfare of rural Thais. Her Majesty has wholeheartedly helped establish foundations such as SUPPORT which assists Thailand's rural population to produce and sell traditional craft products for supplementary income.

The Thai monarchy is revered and regarded as the central, unifying element in the pillars of the nation. King Bhumibol was born on December 5, 1927, ascended the throne on June 9, 1946, and married Her Majesty Queen Sirikit on April 28, 1950.

Their Majesties have four children; Their Royal Highnesses Princess Ubol Ratana, Crown Prince Maha Vajiralongkorn, Princess Maha Chakri Sirindhorn, and Princess Chulabhorn.

The Royal Couple are conscientiously assisted by their children, who frequently accompany them and represent Their Majesties at official functions and ceremonies.


Flag

Thailand's national flag, ceremoniously raised each morning at 08.00 hrs and lowered at 18.00 hrs in every town and village, is composed of five horizontal bands of red, white, and blue. Outer bands of red representing the nation enclose equal inner bands of white evoking religion. The blue band, occupying the central one-third of the total area, symbolizes the monarchy. The harmony of design expresses the complementary nature of these three pillars of the Thai nation. The tri-colored flag, first introduced by King Vajiravudh (Rama VI) in 1917, replaced an earlier design which featured a white elephant on a red background.


National Fathers' Day

December 5 is the birthday of His Majesty King Bhumibol Adulyadej and is Thai Fathers' Day. It is a public holiday.


Public Holidays

Most national holidays and festivals are of a religious nature and serve to evoke a sense of devotion to the monarchy, the religion, and the nation. Some are celebrated by the lunar calendar and thus vary in date from year to year, while others are celebrated according to the solar calendar. Bank Holidays for 2005 are:
| | |
| --- | --- |
| | January 3 (Substitution day for Saturday January 1) |
| | February 23, Makha Bucha Day. |
| | April 6, Chakri Day |
| | April 13 - 15, Songkran |
| | May 2, (Substitution day for Sunday May 1, National Labor Day) |
| | May 5, Coronation Day |
| | May 23, Wisakha Bucha Day |
| | July 1, Mid Year Close (Bank Holiday) |
| | July 22, Buddhist Lent Day |
| | August 12, H.M. the Queen's Birthday |
| | October 24, (Substitution day for Sunday October 23, Chulalongkorn Day) |
| | December 5, H.M. the King's Birthday |
| | December 12, Substitution day for Saturday December 10, Constitution Day) |

Government

Thailand is governed by a constitutional monarchy with a parliamentarian form of government. The Bangkok Metropolitan Administration, BMA, is administered by an elected governor and is divided into 38 districts. The country is divided into 76 provinces, each administered by an appointed governor. The provinces are sub-divided into districts, sub-districts, tambons (groups of villages), and villages.